Model 670 – 6 Person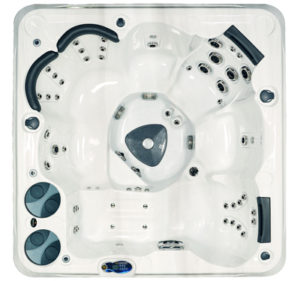 This hot tub replaces the 670 with more interior space for a 6 seater and a lounger. Also new this year is the range of features allowing this hot tub to be priced starting from $9995.
This hot tub is the exact same size with the exact same options, but it differs only in its seating arrangement.
This 6 seater has a wonderful lounging seat as well as a swivel seat lounge making it our smallest hot tub that can be considered a "double lounger".
This hot tub has a very comfortable design and is designed with all of the features common to the Luxury Edition hot tubs.
The 670 Luxury Edition hot tub includes the following standard features:
Self-Cleaning Filtration – Convenient Ongoing maintenance

Quick Drain Plus – Convenient Spa Draining System

2 Cascading Water Fall Pillows

Reflexology Foot Massage

Deluxe Garden-Fx Mood-Lighting System

Self-Draining Built-in Ice Bucket for your favourite refreshments
The INCREDIBLE 50-jet Hydro-massage System
Popular Upgrades to these hot tubs include the following:
Hydropool's Exclusive Salt-Water Systems

Audio upgrade / Stereo system

Northern Lights Topside Lighting Package

Cascading Hydrofall Topside Jet Package

10-Jet Air Bubbler Package